Speakers
Suwardi Luis , Dr. Paul Walsh ,
Investment
Normal Price : Rp12,000,000 + PPn 11%
Date : 16 - 24 June 2022 -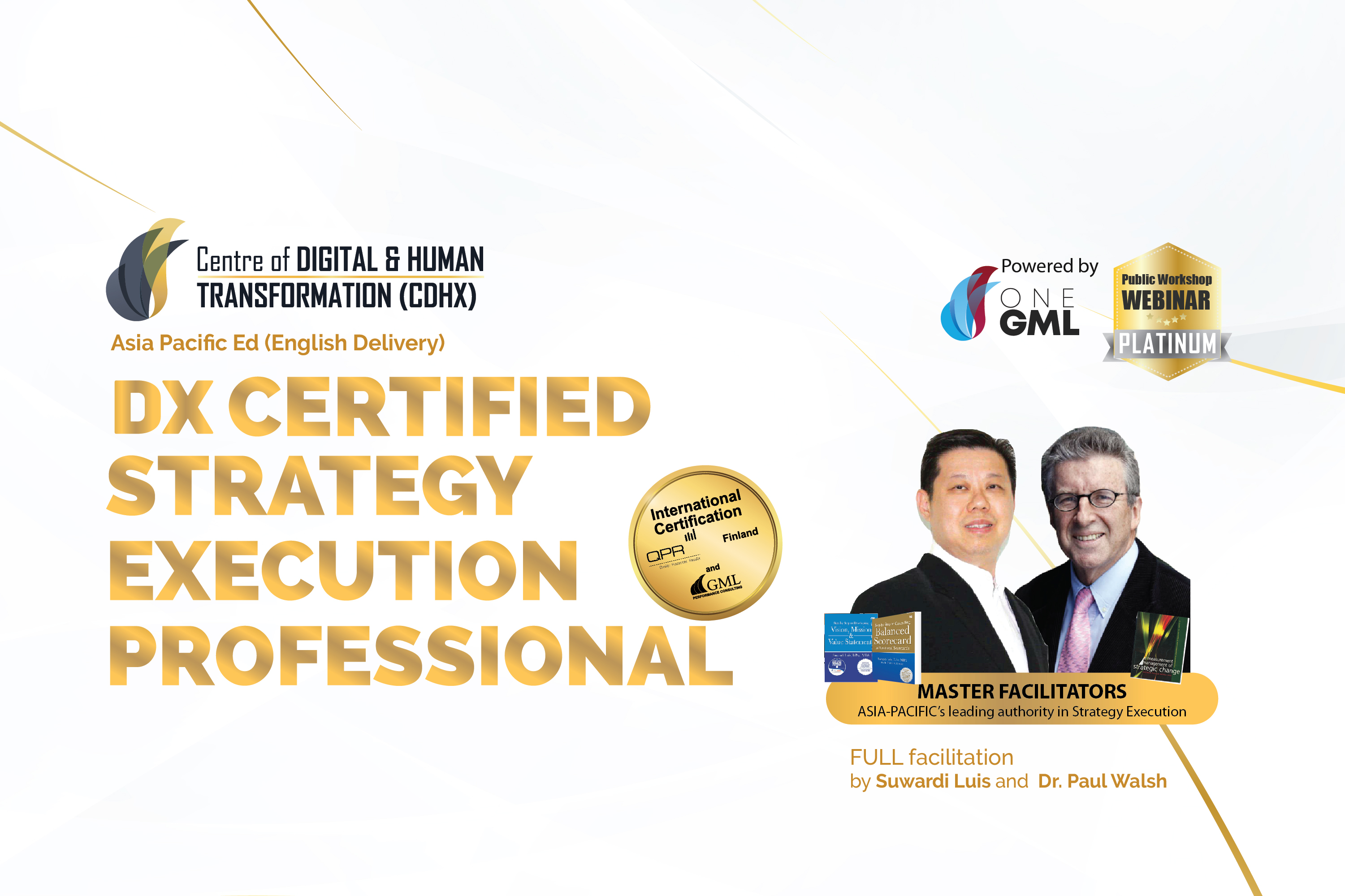 DX Certified Strategy Execution Professional
Asia Pacific Ed (English delivery)
Facing digital disruptions from companies such as Amazon, Grab, and Tokopedia, incumbent players must strengthen their core or become a disruptor themselves.
CSEP is a pioneer, most comprehensive strategy management certification program in Asia updated for the digital transformation context.
CSEP is built on GML study on hundreds of execution winners in Asia Paci­fic. It offers the latest concepts and tools that would help integrate Balanced Scorecard with other popular tools (such as Digital Transformation, Customer Journey, OKR, Blue Oceans, Risk Management & Process Management Xcellence).
8 modules of LIVE online learning in DIGITAL TRANSFORMATION (DX) context that will transform your STRATEGY EXECUTION practices
CDHX Participant Benefit:
Join our CDHX Clinic Class
Participate in Forum discussion
World-class certification program
World-Class Curriculum
Guidance and community
Best speakers from director practitioners and senior consultants
Practical learning methods focusing on "How To"
Take Away:
Exclusive Participant Bag
PDF softcopy of all materials and Tool kits in USB 500 Gb
Vouchers to attend GML or Lutan Edukasi Training
Gramedia BSC Step by Stepin Cascading written by Suwardi Luis & Dr.Prima Biromo
5 Top Participants will get Strategy Change and Measurement book by Dr. Paul Walsh
BSC Scoring tool in Excel spreadsheet
Learning Methods
LIVE Interactive learning with intensive case studies, discussions and feedback
Target Audience:
Business Directors
Strategic Management Professionals
Business Managers interested to enhance their strategy execution capability and digital transformation
(Registrations are valid only for corporate customers)
AGENDA
Module 1: Digital Transformation (DX) & Execution
New Customer Behaviors & Journey
Need for Strategy-into-Performance Execution Xcellence (SPEX2)
North-star Vision Mission and Strategy Formulation
Module 2: DX Strategy Formulation
Strategy Formulation and Mapping
Five DX Customer Network Strategies
Platform Strategy
Module 3: Strategic KPI Management
Guidelines in Setting Measures and Target
Vertical and Horizontal Alignment
4.0 Continuous Individual Performance Management Cycle
Dual Speed Execution: Balanced Scorecard (BSC) & Objective Key Results (OKR)
Altius Digital Systems to Support CPM
Module 4: Strategic Initiative Management
Defining Initiatives
Initiative Prioritization and Alignment with Budget
AGILE Approach in Initiative Management
Modul 5: Integrating Enterprise Wide Risk Management & Change Management
Integrating Enterprise Wide Risk Management
Change Management in SPEx2 Development
Pitfalls in Implementation
Modul 6: Driving Improvement Though Predictive Analytics
Process Management Xcellence (PMX)
Mapping, Measuring and Improving
Process Analytics in the Digital Era
Modul 7: Innovation Methodology
Three Steps in the Innovation Process
Innovation Tools
Tool case studies
Modul 8: Strategic Review & Realignment
Strategic Review vs Operational Review
Dashboard and KPI Analytics
Final Exam