Investment
Normal Price : Rp4,000,000 + PPn 11%
Normal Price : Rp9,000,000 + PPn 11%
Date : 19 - 20 May 2022 -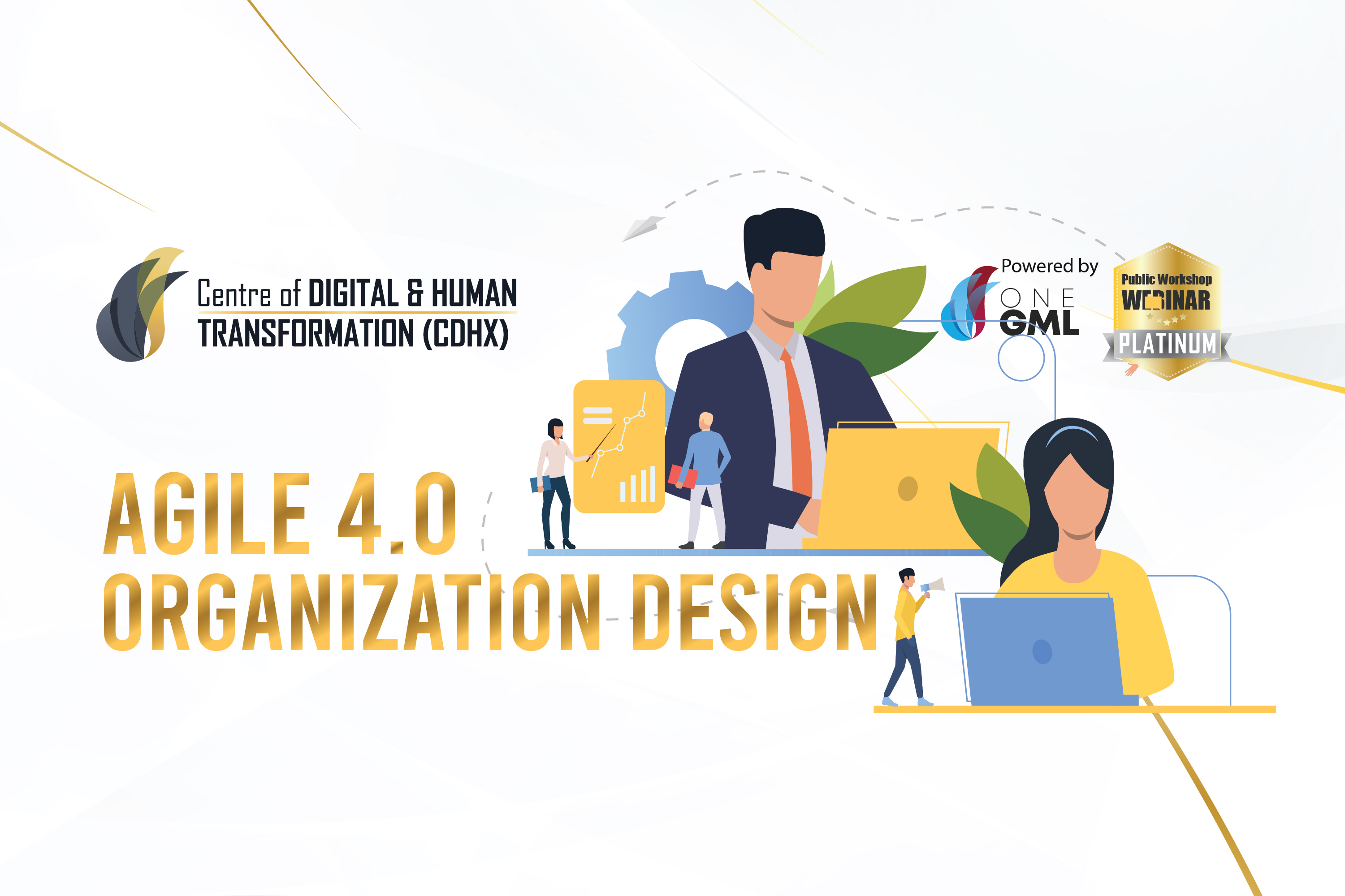 Agile 4.0 Organization Design
Dalam pusaran transformasi digital yang sangat pesat ini, organisasi semakin dituntut untuk bisa cepat beradaptasi dengan segala perubahan yang ada. Webinar ini penting karena organisasi yang lincah bukanlah terjadi secara kebetulan, melainkan harus dibentuk dengan matang melalui strategi yang bisa dieksekusi.
Melalui tuntutan stakeholder yang semakin besar, akselerasi dari teknologi digital, disrupsi, dan perang talenta, semakin menuntut semua organisasi untuk bisa mempunyai kelincahan dalam transformasi strategi mereka menjadi aksi nyata. Ini bisa dicapai jika organisasi didesain sedemikian rupa supaya mampu bekerja dengan alur yang lancar dan cepat.
Melalui workshop yang inovatif ini, Anda bisa mendengarkan sharing dari para pemimpin senior bisnis tentang desain dan praktik-praktik terbaik membangun organisasi yang lincah, yang sudah terbukti dari implementasi yang sudah dilakukan oleh organisasi-organisasi berkelas dunia yang beroperasi di Asia maupun dunia.
Target Audience
Business Heads & C-level Executives
HR/OD Specialists
Managers or Directors of large corporate corporations aspiring for transformations or executives in start-up companies
Benefit Peserta
Kesempatan mengikuti CDHX Clinic Class
Berpartisipasi dalam Forum diskusi
Program yang diselaraskan dengan akreditasi BNSP & sertifikasi kelas dunia
World-Class Curriculum
Bimbingan dan komunitas paska pelatihan
Pembicara terbaik dari direktur praktisi industri dan konsultan senior
Metode belajar yang praktis disertai fokus pada "How To"
Hal yang didapatkan peserta:
Pre-reading
Materi PDF "Agile 4.0 Organization Design"
Lembar kerja (Hand out)
Metode Pelatihan:
Sesi pelatihan
Diskusi dan quiz
Forum tanya-jawab dan sharing
Workshop Outline
Sesi 1
Agile Characteristic 1: Shared Purpose, Vision and Strategy
Practices of mission and vision in agile corporations
SPEx2 framework in cascading strategy into execution-oriented actions
Agile Characteristics 2: Rapid Decision Making and Development Process
Value chain framework and Process Management Xcellence (PMX) LEAN-Startup methodology
Sesi 2
Agile Characteristics 2: Rapid Decision Making, and Development Process. (cont'd)
Start-up way performance management: OKR vs BSC
Death of performance appraisal, rise of Continuous Performance Management
Agile Characteristics 3: Execution-biased Organization Culture.
Organization culture mapping
Various 4.0 corporate value statements
Values internalization strategy for the millenials
Sesi 3
Agile Characteristics 4: Network Organization Structure of Empowered Teams.
Various types of "machine age" and "4.0 age" organization structure
Aligning organization structure with the corporate strategy
Aligning value chain & processes to organization structure
Job analysis to develop job profiles
Aligning compensation strategy that drives agile, performance-based culture
Sesi 4
Agile Characteristics 5: Dynamic Talent Management that Ignites Passion
Quantity: Allocating the right resources with workload analysis & manpower Planning
Quality: 4.0 leadership & talent management best-practices for the millenials
Summary: General Management VS Agile Management Practices